Have you ever had a year that is so momentous that you feel like you can relive it every single time you hear it mentioned? That year for me was 2000. It was a huge year. (And I don't mean because of the 2000 election, in which Tallahassee had a starring role, whether it wanted it or not!)
In January, something devastating and hurtful happened just before I moved from my cute little studio apartment into my (recently deceased) great aunt's house to live while it was in probate.
In February and March, I spent all my spare time distracting myself by setting up house and trying not to be lonely. I lived on the other side of town from my parents in a super cute house surrounded by a neighborhood that was slightly run down and perhaps not the most law-abiding at times.
In April I turned a corner. I began to regain my balance only to begin the process at work of going through a re-org. Uncertainty was everywhere, including in me. I didn't know what I was doing there other than marking time.
In May I flew to Canada - and this is where things get interesting - and promised Matt that I would move to Canada by the American Thanksgiving. (For anyone who isn't in the know, that effectively gave me an extra six weeks.)
In June I dragged my brother to St. Petersburg, FL to go to a Canadian consulate-approved doctor to have the medical exam required for my Permanent Resident Visa.
In July I found out that my great aunt's house was done with probate. Since the rent on it was out of my budget I had to move again. (That'd be move #2.) And I also turned 23.
In August I moved into the apartment that I'd found in July. It turns out that my dear friend was moving back to town and needed a place, so she moved in with me. Perfect - someone to take over the lease when I left by November.
September came and so did Matt. He spent a week hanging out with me and my family, seeing the sights in Tallahassee and this is the one visit we had together that I can barely remember. The highlight was Starvin' Marvin and his stinky bum and flakey skin playing with Emo and Colonel Mustard, but that's another story for another day.
October was a really big month. When it started, I lined up a second job for myself as a seasonal worker at Barnes and Noble, hoping with each passing day that my Visa would arrive soon. All the paperwork had been sent in plenty of time for me to get it by the end of October and I was getting nervous.
Midway through the month, my roommate and I noticed that Colonel Mustard wasn't eating so I took him to the vet. Diagnosis: most likely FIP. I said my goodbyes to the best cat ever the next day. I only had him a year and a half, but he'd been with me through a LOT.
Within about a week or week and a half, I was at the second job one night, bored and counting the seconds until I could leave, when I got a call. It was my mom. She never called me at work but she wanted to let me know there was something from the Canadian Consulate (or whoever it was that sent my Visa; I can't remember now). And I just gave away what was in the package.
And here's the relief part: I was movin' to Canada! I was going to keep the promise I'd made.
I already had my resignation letter written. All I had to do was change the date, print, sign and give it to my supervisor, who was expecting it.
About a week after I gave my three-week notice I left work early, wrapping up by scheduling a meeting with my supervisor and someone from the big boss' office. Later that night, a coworker called me at home to give me a heads up that my supervisor - someone I truly liked - had been let go. The next Monday morning, he called me at my desk to say his goodbyes - he was a great man to work for.
By then, November had come, I had two weeks left to work and I no longer had a supervisor. You'd think I would have switched off, but I didn't. I had the final awards ceremony that I was going to manage and that was important to me. I had some big send-offs from the people I had worked with for 3.5 years. When Matt rolled into town in late November, sporting a champagne-colored minivan, I hadn't even packed a box. (Gasp!) I was in total denial that I was leaving.
Matt spent the days I had left at work walking around the (huge) complex and going into every building to collect boxes. We didn't have a single moment alone since he'd driven into town. So, when he got tired of waiting, he went for it right where we were - my cubicle - and with a co-worker walking by chit-chatting with me. When she saw him down on one knee (before I did), she quickly scurried away. He asked and I said yes.
It was Monday, November 20th, I was engaged and I was definitely moving to Canada. It was a done deal. We quickly packed everything we could into the van over the next two days. Said as many goodbyes as we could and celebrated an early Thanksgiving with my parents and brother.
The day before Thanksgiving, amidst political turmoil, Matt and I drove away from my parents' house on our way north, just as I'd promised.
That was when the real relief began.
*****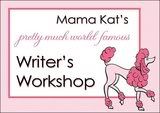 This post was based on the prompt "A moment you felt truly relieved" from Mama Kat's writing workshop.
What's your moment of relief?